The Stihl MSA 220 C-B is available at Masseys in Swadlincote. The chainsaw is the most powerful Stihl cordless chainsaw to date and is on display in our store in Swadlincote. Masseys recommend the Stihl MSA 220 C-B for home use, landscapers and professional users. The chainsaw sits above the MSA 200, this chainsaw uses the brand new AP 300 S to provide the highest cutting performance of a cordless saw.
Comes with a 14 inch bar.
The chainsaw would be an ideal choice for small-sized timber felling, limbing, clearing young trees, timber construction and firewood sawing.
Masseys assemble your chainsaw, PDI it and make sure it is running before you leave the store which will reduce any unwanted down time. Don't forget, Masseys in Swadlincote, Derbyshire has one of the largest Stihl displays in the UK!
The Stihl MSA 220 has fantastic performance when used in conjunction with the AP 300 S. With a chain speed of 24 m/s, the EC Motor allows for fast acceleration of the saw so chain speed can be quickly picked up when needed. This machine can be used in the rain so it is ideal for the British climate throughout the year. Tensioning the chain is easy and can be done without the need for a tool.
The MSA 220 uses a full chisel 3/8" PS3 chain and 35cm/14"
Run time with the AP 300 S battery is 48 minutes. Please note that batteries and charges are sold seperatley.
Click to see our full range of Stihl chainsaws. Other chainsaws in the Stihl AP range include the Stihl MSA 200 C-BQ Chainsaw (AP System) and the Stihl MSA 161 T Top Handle Chainsaw (AP System)
Most powerful cordless chainsaw made by STIHL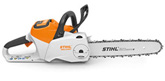 Stihl MSA 220 C-B Technical data
| | |
| --- | --- |
| Weight kg 1) | 3.6 |
| Bar length " | 14 |
| Recommended battery | AP 300 S |
| Rated voltage V | 36 |
| Chain gauge | 3/8″ P |
| Run time with AP 200 min 2) | up to 42 |
| Run time with AP 300 S min 3) | up to 48 |
| Run time with AP 300 min 4) | up to 45 |
| Battery life AR 1000 min 5) | up to 110 |
| Run time with AR 2000 min 4) | up to 160 |
| Run time with AR 3000 min 4) | up to 200 |
| Oil tank volume cm3 | 209 |
| Recommended bar length cm/inch | 35cm/14″ |
1) Without battery, with bar and chain
2) Run times vary depending on the application
3) Running times are reference values ​​and may vary depending on the application.
4) Run times can vary depending on use and application
5) Battery life times are approximate and may vary depending on application