Ozito TSB-0808U Table Saw 200mm
The Ozito TSB-0808U is one of the most affordable table saws on the market and is desgined to provide you with a versatile timber cutting workhorse which is provided with a three year warranty for domestic use, and which won't break the bank in the process.
This 200mm table saw is suitable for ripping and cross cutting timber and is ideal for the home workshop. It's compact, lightweight and portable design makes it ideal for those with limited space.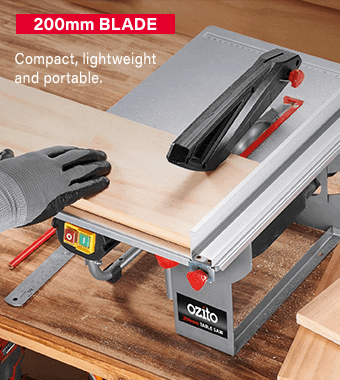 The saw blade can be easily tilted up to 45° left, allowing for bevel cuts in timber up to 32mm thick, while the parallel stop with two heights allows you to easily make straight and clean cuts.
For safety, a push stick is included with it's own holder where it is always within reaching distance. A dust extraction port on the rear of the saw will assist in keeping the work area clean when connected to a suitable dust extractor or vacuum cleaner, while the power cable can be safely and conveniently stowed on the integrated cable holder to keep it stored out of the way.
Specifications
• Voltage: 240v
• Input Power: 800w
• No Load Speed: 2,950/min
• Blade Diameter: 200mm
• Blade Bore: 16mm
• Table Size: 500 x 335mm
• Max Cutting Height: 43mm / 90°, 32mm / 45°
• Weight: 10.65kg
Features & Benefits
• Compact and affordable table saw
• Versatile benchtop saw which takes 200mm blades
• Supplied with 24 tooth blade
• Ideal for the home workshop
• Three year warranty for domestic use
• Blade Bevel Adjustment
• Lightweight and portable at just over 10kg
• Dust Extraction Port
• Includes push stick to keep hands safely away from the blade
• Integrated storage for cable and push stick
Contents
• TSB-0808U Table Saw 240v
• 24 TCT Saw Blade 200mm
• Parallel Fence
• Mitre Guide
• Push Stick
• Dust Extraction Adaptor